Jaycot Industries represent top of the quality products available on the market. It guarantees the Trade competitive advantages, thanks to continuous investments in processes and product innovation.
We aim to provide the highest level of service to our customers, focusing on their most important purposes: profitability, shelf-rotation and impeccable service up to final delivery.
We know that each Customer requires a tailor-made, best-in-class response to its needs, most of all when it comes to Private Label. The managing team blend multinational company background and related focus on quality and excellence with the flexibility of lean, quick-reactive small scale organisations.
Each production phase is entirely certified, from raw material selection to customized packaging.
Decades of dedicated work has lead to excellent results, Jaycot's Quality Control has been testing and monitoring both production processes and its selected network of qualified suppliers.
The final phase of the process complies with Jaycot's high-demanding quality standards, thanks to a modern logistic platform partnerships with national and international leading forwarders.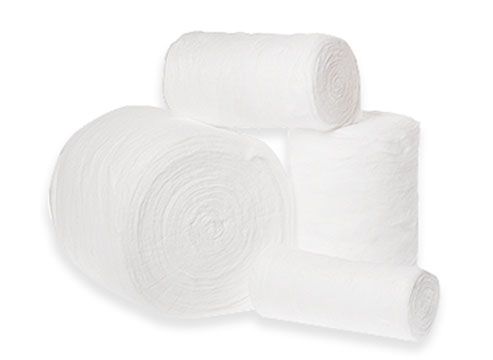 Absorbent Cotton Wool - Rolled
Preferred especially by hospitals, pharmacies and other companies that offer medical products and services, the rolled cotton wool can be produced organically and in a weight range of 15 to 1000 grams depending on customers' needs. It is particularly ideal for areas like the medical industry, where cotton is used more often for sanitary reasons, due to its hygienic and economic
Roller Bandages
Roller Bandages : As a leading firm, we are involved in manufacturing, supplying and exporting a large gamut of Roller Bandages. These bandages are made in adherence with the industry standards and norms. Under the supervision and leadership of the industry heads, we have developed these bandages using optimum grade pure cottons. One can avail our range at most affordable rates.
Features:
• Finely tested
• Long lasting
• Reasonable rates
Head/Surgeon Cap and Nurse/Bouffant Cap
We manufacture surgeon / Nurse caps of superior quality, non-woven fabric with high class machine stitching.
Especially designed to protect the patient against dropping of hair and dandruff of the doctors and the attending staff.
Manufactured from soft non woven green/blue cloth.
Provided with stitched interlocking adaptable elastic for better grip on the forehead and comfortable fitting.